Dab pens are some of the most popular vaporizers in the world today – and when you examine the features and benefits of these devices, it isn't hard to see why. A wax-based concentrate condenses the active ingredients and flavorful terpenes of your favorite herb into a form that's compact and easy to dispense. A wax concentrate gives you the complex flavor of your favorite herb without the harshness of smoke, and waxes are also extremely potent; a small rice-sized portion of wax is generally all that's necessary for you to have an incredibly elevating experience.
Because dab pens are so popular, companies such as Hamilton Devices have created an enormous range of devices to suit a wide variety of different use cases. You can find tiny devices that are impressively sleek and portable, and you can also find dab pens that are larger and much more powerful. In fact, we've created some revolutionary dab pens with features that aren't available anywhere else.
Whatever your needs might be, there's a dab pen that's a perfect fit – and in this article, we're going to help you find it. These are the best dab pens on the market in 2023.
What Are Dab Pens?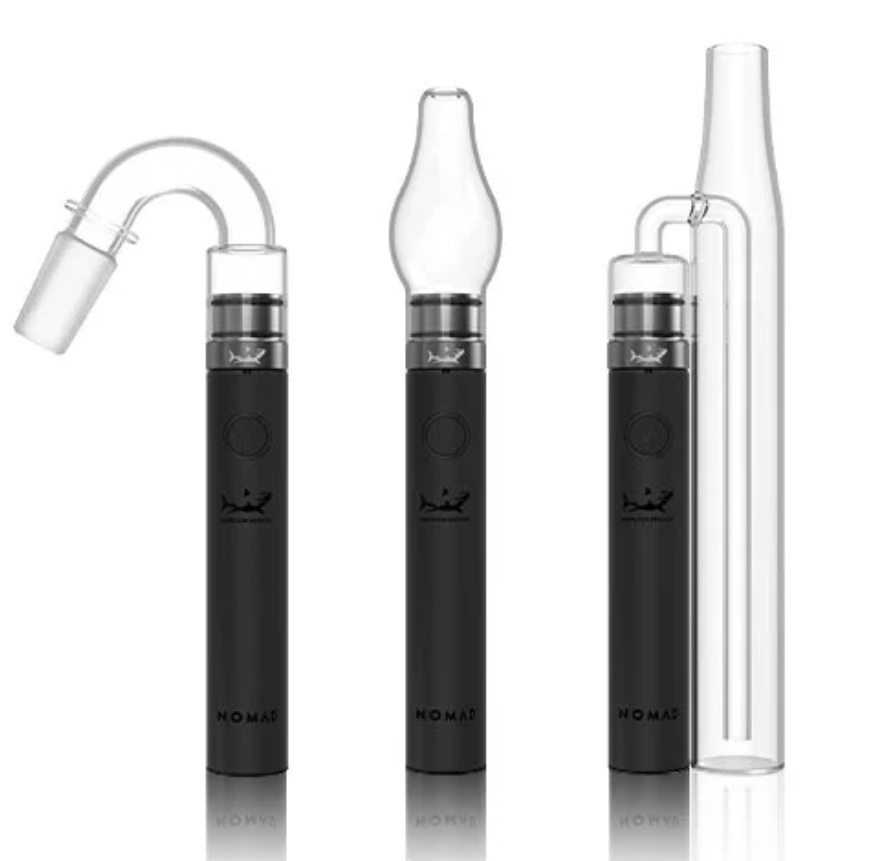 Before we discuss specific devices, we'd like to begin with some more general information that you might find helpful if you've never used a device for dabbing before. A dab pen is a vaping device designed to work with waxy concentrates. Wax concentrates come in a wide range of different thicknesses and consistencies, but they're all solid at room temperature. An oil-based concentrate, on the other hand, is liquid at room temperature.
The two types of concentrates require different types of vaping equipment. A wax-based concentrate needs a wax coil, and an oil-based concentrate needs a vape cartridge. Wax coils and vape cartridges both work with most 510-thread batteries. Learn more about vape pens vs. dab pens.
Perhaps the biggest thing that sets dab pens apart from oil vaporizers is the fact that dab pens are meant more for on-demand use. Because a vape cartridge is a sealed environment, you can take an oil pen everywhere with little fear of leaking. A dab pen, on the other hand, is designed more for session use. You put a small amount of wax on the atomizer and use the device until all of the material is consumed. The benefit is that although dabbing is less convenient than using an oil pen, many people find the experience of dabbing significantly more flavorful and potent.
With that basic introduction out of the way, it's time to learn more about the best dab pens on the market – and we'll begin with a device that's simple and suitable for just about anyone.
Best Dab Pen for Beginners: Nomad
Price: $66.99 | View It Now

The Nomad is the best dab pen battery for beginners because it's compact and easy to use – but it's also a device that can grow with you as you gain experience and become a more demanding and discerning vaper. Impressively portable, the Nomad comes with a padded case that stores the device along with all of its included glassware. In addition to its standard configuration – which uses a mouthpiece made from borosilicate glass for maximum flavor quality – the Nomad also includes a deluxe glass bubbler and an adapter that allows it to attach to most water pipes.
The Nomad has a built-in 650 mAh battery, and it operates at three power levels of 3.4, 3.8 and 4.2 volts. By default, it activates when you hold the fire button. You can also click the button twice to switch the Nomad to puff-activated firing, which is useful when the device is connected to a water pipe.
Best Dab Pen for Portability: KR1
Price: $69.99 | View It Now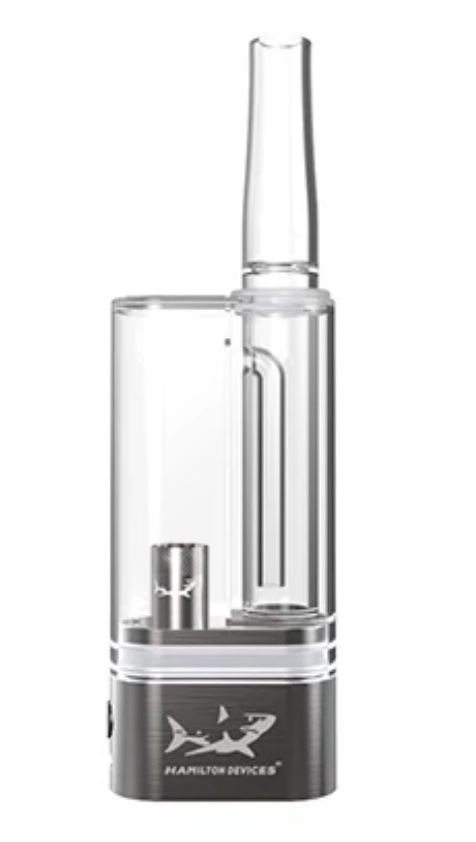 The KR1 isn't just one of the tiniest and most portable dab pens on the market – it also has an added feature that allows it to deliver perhaps the smoothest vaping experience you'll ever have. That feature is a built-in glass bubbler, and it allows you to enjoy the smoothness and coolness of water filtration wherever your journeys happen to take you. Simply connect a wax coil and add a bit of water to the bubbler, and you're ready to go. The KR1 also works with standard 510 cartridges for oil vaping, so you're free to use the material that suits you at the moment.
The KR1 has a built-in 500 mAh battery, and it uses a button-based firing mechanism. It operates at three power levels of 3.2, 3.6 and 4.0 volts. Simply click the fire button to switch between power levels. It's truly the best portable dab device on the market.
Best Dab Pen for Affordable Power: Starship
Price: $89.99 | View It Now

The Starship is a legendary dab pen because it's the first vaping device on the market with the ability to work with up to three attachments simultaneously. You can connect up to three wax coils or three 510 cartridges – or any combination of the two. A large glass mouthpiece fits over the device, allowing you to inhale from the three coils or cartridges simultaneously for the most elevating experience that our vaporizer developers have yet devised. If you're in the mood for a less potent experience, the Starship also works with two attachments or just one. It includes the required dummy connectors to disable the unused threads.
The Starship has a built-in 1,450 mAh battery, and it operates at three selectable power levels of 3.2, 3.7 and 4.2 volts. It uses button-based firing by default, but you can also switch it to puff-activated firing by clicking the fire button twice. The puff-activated firing function is useful if you're connecting the Starship to a water pipe using the included adapter.
Best Dab Pen for Demanding Experts: Jetstream
Price: $169.99 | View It Now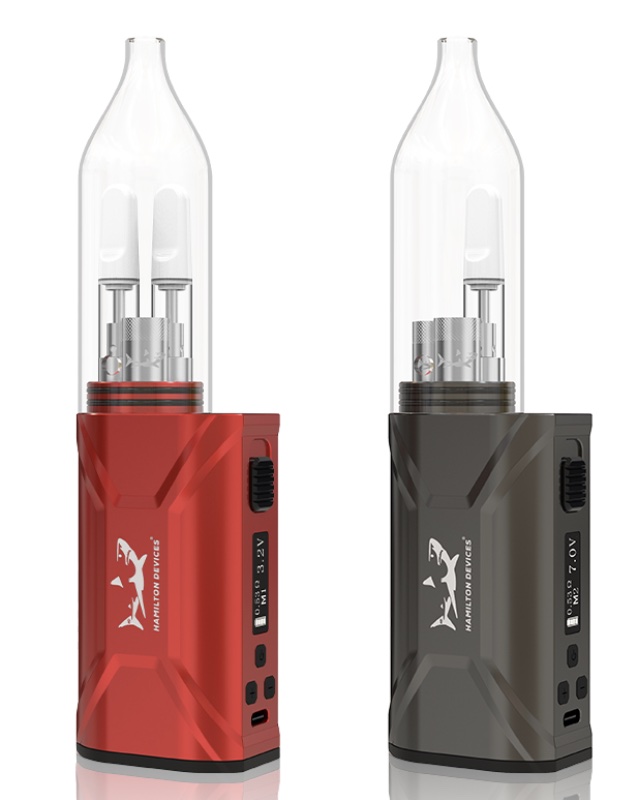 The Jetstream is the latest vaporizer that we've developed here at Hamilton Devices, and it's truly the best dab pen on the market if you're looking for a device with truly awe-inspiring potency and capabilities. The Jetstream shares the Starship's ability to work with up to three cartridges or coils simultaneously, but we've crammed those features into a device that's even smaller and more portable while offering a new feature that you won't find anywhere else: a built-in air pump. Simply activate the air pump, and the Jetstream automatically channels the vapor to your lungs. No other dab pen makes vaping as easy and comfortable as breathing.
The Jetstream has a built-in 1,800 mAh battery, and it offers fully adjustable power with a range of 2.0-4.5 volts. You can adjust the strength of the device's air pump separately; it has a power range of 4.5-7.0 volts. The device has a physical switch that you can use to toggle the vaping function on and off.